Naran is a medium-sized town in upper Kaghan Valley in Mansehra District of Khyber Pakhtunkhwa province of Pakistan. It is located 119 kilometers (74 mi) from Mansehra city at the altitude of 2,409 meters (7,904 ft). It is located 70 kilometers (43 mi) from Babusar Top.
Saiful Muluk is a mountainous lake located at the northern end of the Kaghan Valley, near the town of Naran in the Saiful Muluk National Park. The lake is a source of the Kunhar River. At an elevation of 3,224 m (10,578 feet) above sea level, the lake is located above the tree line, and is one of the highest lakes in Pakistan.
Saiful Muluk is located in the Mansehra district of Khyber Pakhtunkhwa, about 9 kilometres (5.6 mi) north of Naran, in the northern part of Kaghan Valley. Malika Parbat, the highest peak in the valley is near the lake.
The lake is accessible from the nearby town of Naran by Jeeps during the summer season but access during winter is very limited.
Saiful Muluk was formed by glacial moraines that blocked the water of the stream passing through the valley. Rising temperatures and receding glaciers left a large depression where glaciers once stood. Melting water collected into the lake.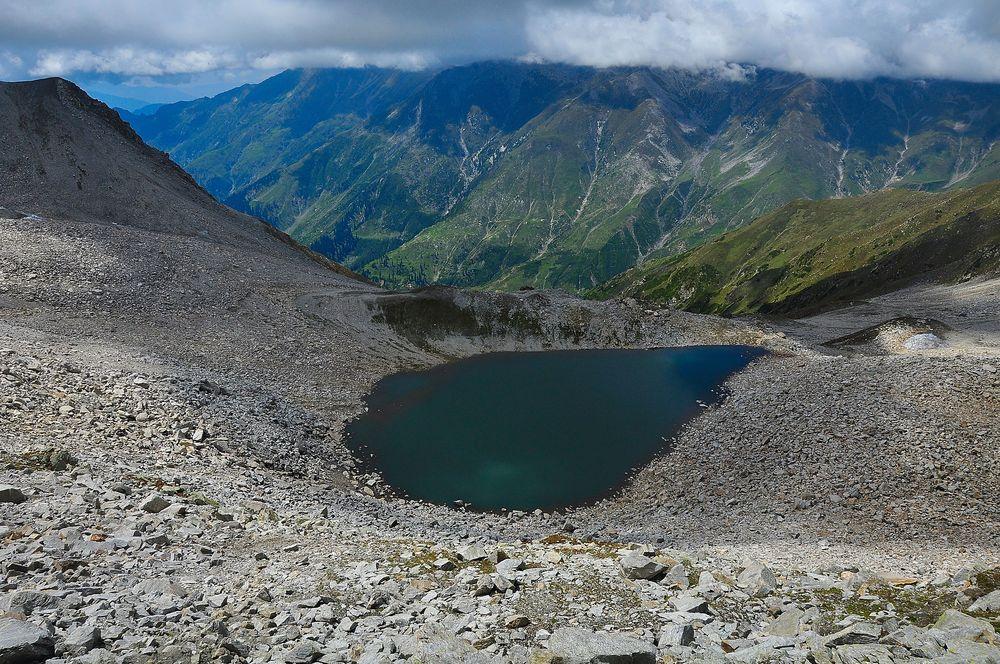 Ansoo Lake is located in Kaghan Valley of District Mansehra, Khyber Pakhtunkhwa, Pakistan. It is located at an altitude of 13,927 feet (4245 meters) above sea level and considered among one of the highest lakes of Himalayas. The lake is situated near Malika Parbat, the highest mountain of Kaghan Valley.
It takes seven to nine hours of trek for a round trip from Lake Saif-ul-Malook to Ansoo Lake. It is recommended to set off early in the morning. It would be better if you spend night at Lake Saif-ul-Malook and start traveling as early as possible in the morning. This trek can be separated into two halves. The first part is through a valley alongside river to the base camp of Malika Parbat. The second steeper part is from the base camp of Malika Parbat to Ansoo Lake.
The second trek to set off for Ansoo Lake is a village named Mahandri, located about 40 kilometers (25 miles) to the south of Naran. Turning left from Mahandri Bazar, a jeep track leads to Village Manoor. This valley is great gift for nature lovers and full heart touching picturesque views. You can reach here on jeep but you need to walk from here. After 6-7 hours of trek a lush green meadow called "Dher" comes. From here trek starts to incline. After 3-4 hours of trek from Dher at a height of about 14,000 feet you can see the Ansoo Lake.
Preparations for Trek: Bring tents and sleeping bags and food with you for in case you need to camps somewhere due to rough weather conditions like snow fall, heavy rain or land slide. Hire a guide and horses for the trek. (This can be arranged from the Lake Saif-ul-Malook). Keep enough food and water with you. Better to take sandwiches or burgers for food because you don't need to take any crockery stuff for them. Use comfortable shoes, warm clothes and especially keep a raincoat with you for rain and snowfall. Cautions for trekkers: Avoid trekking to Ansoo Lake in a bad weather. Wait for a fair day. Diabetes patients and people with respiratory problems should avoid to trek for the lake.
Lulusar Lake is a lake at 3,410 m (11,190 ft), is the primary headwaters of the Kunhar River. It flows southwest through the entire length of Kaghan Valley passing Jalkhand, Naran, Kaghan, Jared, Paras and Balakot until its confluence with the Jhelum River. It is located about 48 kilometers (30 mi) away from Naran and is accessible by any kind of vehicle.
Babusar Pass | Babusar Top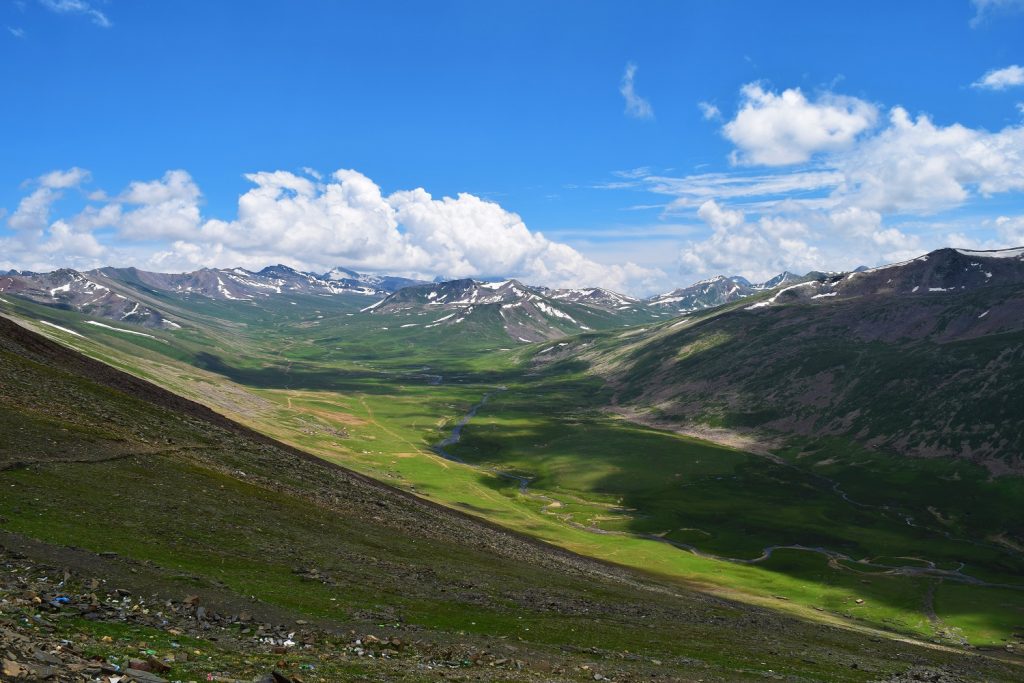 Babusar Pass or Babusar Top (elevation 4,173 meters or 13,691 feet) is a mountain pass at the north of the 150 km. (93 miles) long Kaghan Valley connecting it via the Thak Nala with Chilas on the Karakoram Highway (KKH). It is the highest point in the Babusar valley that can be easily accessed by any vehicle. Babusar Pass connects Khyber Pakhtunkhwa with Gilgit Baltistan province of Pakistan.
Lalazar is a green meadow situated at the height of an elevation of 3,123 meters (10,246 ft) above the sea level, located in upper Kaghan Valley in Mansehra District of Khyber Pakhtunkhwa Province of Pakistan, The route to Lalazar is on the Mansehra-Naran-Babusar-Chillas highway toward Babusar, the drive is mesmerizing in itself as the marvelous River Kunhar is flowing along the route on the left and the mountain covered with Alpine Forest is on the right. The road till Battakundi is paved and smooth but after Battakundi, the road started climbing up on the mountain road.
The access road was very bumpy and is only accessible by 4×4 jeeps. Very dangerous roads, slippery and windy, very dangerous during drizzling, on the top got beautiful view and awesome food at the top of the mountain, very fresh air. Lalazar offers beautiful meadows and prairies with terraced slopes and postcard views.
Dudipatsar National Park - Dudipatsar Lake
Dudipatsar Lake, also known as Dudipat Lake, is a lake encircled by snow clad peaks in Lulusar-Dudipatsar National Park. The lake lays in the extreme north of the Kaghan Valley, in the Mansehra District, Khyber Pakhtunkhwa province, in northern Pakistan.
The lake's water is greenish blue hue and very cold, at an elevation of 3,800 meters (12,500 ft). The surrounding mountains, with snow patches in the shady dales, average around 4,800 meters (15,700 ft) in elevation. Their natural habitat is in the Western Himalayan alpine shrub and meadows eco region.
The lake and park is accessible for four months of the year from June to late September. In the summer, when the mirror-like water reflects the scenery, visitors from different regions of the country and from abroad travel to enjoy the enchanting views. The trail head for Dudipatsar is located at Besal, which is about an hour drive from the town of Naran. The road is accessible by cars and motorbikes. From Besal onwards visitors trek in vast alpine meadows to reach Dudiptsar Lake. It is advised to not hike it in snowy conditions, as it is an avalanche prone area. The 2005 Kashmir earthquake in North Pakistan made access more difficult. However, since 2006 the Pakistan government has taken steps to restore tourism in the Kaghan Valley, including rebuilding and new tourism facilities and infrastructure.
Shogran is a hill station situated on a green plateau in the Kaghan Valley, northern Pakistan at a height of 2,362 metres (7,749 ft) above sea level.
Shogran is located at a distance of 34 kilometers (21 mi) away from Balakot. The road from Islamabad to Kiwai is metalled and measures 212 kilometers (132 mi).
Siri Paye is 6 km from Shogran, accessible by four wheel jeep trailing over a bumpy road or just trek. The patch is full of adventure and fun.
At a majestic height of 11200 feet the Makra Peak boasts the most dramatic scenery of Paye offering a pleasant blend of lakeside walks with a vivid blue sky above us which is truly a rewarding exercise for the beholden visitor to "Siri Paye".